Cleburne Dental Care
Our Commitment to Quality and Comfort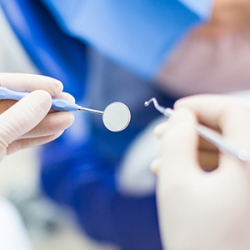 A dedication to oral and dental health is foundational in maintaining your overall health and well-being. Regular visits to a dentist, who is committed to maintaining this health, is the primary way to addresses dental issues before they become painful and expensive problems.
Yet, many of us may avoid the dentist because we carry troubling memories of sitting in the dentist's chair. In the past, dentistry was synonymous with pain, discomfort, and anxiety. Some of us put off dental visits to avoid what we remember to be stressful experiences, and have therefore allowed our oral and dental care to suffer.
Modern dentistry has come a long way from the old silver fillings and false teeth of just a few years ago. Today's dentistry is patient-centered and focused on the impact oral health has on your overall wellness. Modern practice has left the pain and stress of visiting a dentist behind.  Instead, it focuses on providing state-of-the-art care with a constant commitment to your comfort.  
Cleburne Dental Care works to reverse these negative associations with the dentist by offering an experience that is as comprehensive as it is comfortable. We are honored that our patients have put aside their previous, stressful dental experiences and have chosen us to partner with them in their oral health journey.
Welcoming New Patients
Providing The Highest Level of Dental Care
The best way to ensure the health of your teeth, mouth and gums is through preventive care. We are experts in maintenance and in fortifying the structures of the oral cavity against damage and disease. You'll find that comfort and compassion for our patients' needs are our top priorities. Preventive Dentistry solutions include cleanings, x-rays, sealants and fluoride. During a routine check-up with our dental specialists, we will begin by taking x-rays of your teeth, gums, and jawbone in order to detect cavities, fractures, and other abnormalities. 
Routine Cleanings & Exams
Even if your teeth and gums have always been in good shape, it's important to schedule regular dental exams and cleanings to ensure that they stay that way. Professional dental cleanings help remove plaque and tartar that has built up over time, while exams allow our team to diagnose and treat any issues as they come up. Making time to see our dental experts for your regular dental cleaning and exam is one of the most important things you can do to keep your smile healthy and clean.
Cosmetic Dentistry At Its Best
At Cleburne Dental Care, we absolutely love providing cosmetic dentistry for our patients and changing people's lives! We have seen quite a few patients over the years become more self-confident, more radiant and more willing to show off their smile in social situations having fixed chipped teeth or having closed spaces with dental veneers. Also, teeth bleaching has given many patients the opportunity to have a whiter, brighter smile. In addition, you won't believe the results many of our patients are getting with dental crowns.
Restorative Dentistry
Missing or severely damaged teeth can affect your appearance. But did you know they can cause dental health problems? Plaque and tartar can accumulate on your gums and your remaining teeth can slowly drift out of their original places and pose hazards to one another. And without a complete smile, it can be difficult to speak clearly or eat properly. We offer many restorative dentistry solutions in the construction of new teeth with a composite material, repairing or rebuilding bridges, or creating implants where teeth are missing. In some cases, reconstructive dentistry is necessary to support and prevent damage to teeth that are intact and properly functioning. Let us help you achieve the relief you need.
Cleburne Dental Care
Let Us Restore Your Smile
Cleburne Dental Care, a People's Choice of Best Dentist in Cleburne Award Winner since 2014, is proud to offer quality care in a comfortable environment. We are wholly committed to our patients' oral and dental health and are ready to ease your anxiety about visiting the dentist.
Cleburne dentist, Dr. Davis, along with his professional staff, welcomes you and is ready to assuage your fears, provide your dental treatments, and arrange for your comfort. We strive to give the highest level of detail to patient care because that is what we believe in and that is what we would do for our own family and our patients are a part of our family.
Comprehensive Family Dentistry
Our dental team is excited for the opportunity to meet you and assist you in achieving an optimal level of oral health. Cleburne Dental Care in Cleburne, Texas provide all types of preventive, restorative or cosmetic treatment in one location. We welcome all of your loved ones, from your children to your grandparents, to experience our inviting atmosphere and comprehensive family dentistry.
We how to deal with any issue that you may come across. This creates a basis for lasting relationships with our patients built on trust and mutual understanding.
I've been to plenty of Dentists over the years... after my Dentist retired I've spent years trying to find a great dentist to replace him. I now drive over an hour for my appointments at Cleburne Dental. Dr. Davis and his staff are AMAZING!
I would recommend Cleburne Dental to anyone. They are the best. Everyone in the office is so sweet and makes me love going to the dentist.
I've been a patient here for 6 years now, the whole staff is wonderful! The assistant Cheryl, hygienist Fawn and dentist Dr. Sid Davis are all patient gentle and caring. The front office manager Brandi is also very thorough in explaining the billing and insurance. I highly recommend this place for all your dental needs!