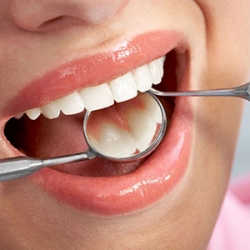 Preventive dentistry is the practice of taking care of your teeth to keep them sparkling and happy. This practice involves education, treatment, and maintaining your teeth and gums. The two main causes of tooth loss are decay and gum disease. The better you prevent or deal with these two problems, the more chance you will have of keeping your teeth for life. Preventive dentistry is a dental treatment that focuses on protecting the teeth from common dental problems.
Adult Cleaning
Routine cleanings are critical for the maintenance of a healthy and beautiful smile. Cleburne Dental Care recommends that our patients schedule a professional cleaning every six months because this frequency allows us to remove plaque and tartar from our patients' teeth, check for decay, examine gums, and make and maintain plans for future care. Additionally, dental cleaning allows us to examine for cancerous and other anomalous growths.
At Cleburne Dental Care, we are committed to providing cleanings that are comfortable and anxiety-free. We understand that many of our patients have had uncomfortable experiences in the dental chair in the past, so we work to alleviate this discomfort.  Let us schedule your next cleaning so we can keep you on the road to optimal dental health.
Child Cleaning
We love having children in the office and pay special attention to making them comfortable.  It Is our goal for our young patients to understand that dentistry is not painful, uncomfortable or something to be dreaded.  We know we have been successful when our littlest patients look forward to coming back. When we treat children, we can reinforce with them the importance of dental health and maintenance, and we can establish a relationship that can last as long as they are our patients.
Additionally, seeing children for their routine cleanings allows us to watch them grow. We can monitor their oral and dental health to watch for signs of upcoming issues.  The earlier we see children in our office, the more we can get to know them and their mouths. They can also proceed through life knowing that the dentist is their friend and not someone to be feared or avoided.
Routine Care
Dr. Davis will first check your teeth and gums, and talk to you about any treatment you need. Most patients receive a routine check-up when they visit us for a dental cleaning. However, we recommend that patients schedule a check-up whenever they have concerns or questions about their oral and dental health. The main aim is to help you get your mouth really healthy. In a healthy mouth it is unlikely that decay or gum disease will continue to be a problem.
Patients who are experiencing pain, have questions about their teeth, or need a professional opinion should call to schedule a check-up with Dr. Davis. Routine check-ups are an essential part of any preventive dentistry plan and we love to see our patients in our office.  
Comprehensive Oral Exam
Dr. Davis performs a comprehensive oral exam to inform a diagnosis about a patient's acute or chronic dental issues. He collects information taken from a patient's health history, oral cancer screening, gum measurements, and the patient's description of symptoms to diagnose health issues and recommend a plan for treatments.
In the course of the exam, Dr. Davis might take X-rays, use specialized dental tools, and dyes to arrive at a diagnosis. At the end of the exam, he will share his recommendations for treatment, explain the processes involved, and answer the patient's questions. It is important to address dental issues in their earliest stages as time is rarely on the side of dental treatments.  Come in today for a comprehensive oral exam if you are anxious, worried, or simply curious about your oral and dental health.
Digital X-rays
Digital x-rays provide information that cannot be ascertained with other tools or examinations. They show the condition of a patient's teeth, roots, jaw placement, and facial bone composition. They are also key in discovering early problems before they become acute. Typically, patients require x-rays once per year but may need a more frequent schedule if dental health issues persist.
Cleburne Dental Care uses digital x-ray technology limits exposure by 70%, enhancing your safety significantly, and offers instant results that both patient and Dr. Davis can review on the computer. Digital X-rays help our patients stay informed about their dental health. 
If you'd like to learn more about digital X-rays or you need to have x-rays taken, contact us today.  We are happy to discuss the benefits of digital x-rays for our patients' oral and dental health.
Oral Hygiene Maintenance
It is important for patients to commit to scheduled visits with Cleburne Dental Care to allow our professional staff and Dr. Davis to clean and examine their teeth, mouth, and gums.  However, it is equally important that patients manage their oral and dental care at home.
Cleburne Dental Care is happy to assist all of our patients with understanding and performing the necessary oral health maintenance that improves their overall oral and dental health. We teach our patients proper teeth brushing, flossing, rinsing, and self-examination so that their home care produces the best results.
Proper home care is essential for protecting the health of your teeth, gums, and mouth.  Additionally, home care makes regularly scheduled visits to our office much more pleasant and productive.  Let us know if you have questions about providing the maintenance your teeth need to be and stay healthy, strong, and beautiful.
Oral Cancer Screening
Regularly scheduled visits with Cleburne Dental Care do more than offer us the opportunity to clean our patients' teeth.  They also grant us access to the inside of our patients' mouths so we can examine for irregularities. 
Annual oral cancer screenings are imperative as they allow us to screen for signs of oral cancer and other tissue anomalies. This exam involves a thorough checkup of the oral tissues, including the gums, tongue, cheeks, ​floor of the mouth, and soft tissues around the throat. Dr. Davis looks for anything out of the ordinary and, if discovered, develops a comprehensive plan for treatment. It is often the case that oral cancer screenings discover issues before they become much bigger health problems.
Oral cancer screenings are an important part of our commitment to our patients' dental and oral health. Dr. Davis and the professional staff at Cleburne Dental Care are eager to discuss these important examinations with you.
Periodontal Services
Dental care is not limited to the examination and care of the teeth. A patient's gums and jaw structures are equally important for oral care and maintenance. Periodontics is the dental specialty that addresses these gum and bone diseases and conditions. Cleburne Dental Care offers comprehensive periodontal treatments, such as tooth scaling and cleaning; prescribed antibiotics and special mouthwashes; and oral surgery to address serious periodontal issues. It is important to catch periodontal issues early as their treatment becomes more complicated and involved if they are left unaddressed.
At Cleburne Dental Care we strive to educate our patients and to focus on a comprehensive treatment plan to reduce and address the risk of periodontal diseases. Contact us with your questions or concerns about periodontal issues. Let us help you keep your smile healthy and beautiful.