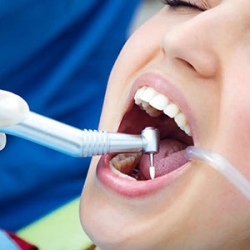 Dr. Davis and his professional team at Cleburne Dental Care are committed to providing you with the very best that dentistry has to offer and we take every opportunity to make your visit as comfortable and convenient as possible. 
At Cleburne Dental Care, we work with our patients to help them achieve and maintain healthier gums and teeth to create the beautiful smile every patient has. It is vital that our patients understand treatment options and preventive care, so we take the time to cover this important information.
For patients who are anxious about dental treatments, Cleburne Dental Care offers nitrous oxide and other local anesthesia options because we want every patient to feel comfortable and stress-free. No patient should ever enter or leave our office feeling apprehensive.
Modern Dentistry Done Well
Dentistry has come a long way since the days of silver fillings, painful x-rays, spitting in sinks, and sitting in uncomfortable chairs while the dentist pokes around with scary-looking instruments. No one is more glad for the remarkable innovations in dentistry than the Cleburne Dental Care professional staff.
We have equipped our office with the latest, state-of-the-art digital X-ray systems, intra-oral cameras, and ultra-sonic cleaning scalers. With these amazing tools, we can provide the best dental and oral care in the most comfortable manner possible. Our patients can attest to the quality dentistry we offer every day. 
We are committed foremost to our patients' safety and use the latest sterilization equipment that exceeds all OSHA and American Dental Association requirements. We have succeeded when our patients leave knowing they received a full-service, high quality, comfortable, and convenient dental experience.