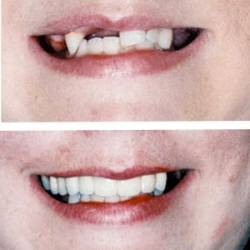 Let Dr. Davis and the team at Cleburne Dental Care help you make the best dental decisions for the restoration of your natural smile. We are here to discuss the options that work best for you and your oral health. Restorative dentistry procedures can fix and help your mouth stay healthy and the most common procedure is the filling of any cavities. Filling cavities help prevent any more decay or harm to be done to that tooth or any surrounding teeth. Any missing teeth that get replaced with implants, bridges, or dentures is also a common restorative procedure. Teeth that need to be strengthened with crowns or caps is also considered a restorative procedure.
Tooth-Colored Fillings
Historically, dentists would fill and seal cavities using a silver and mercury composite material that did not match the tooth's color or last over the lifetime of the tooth.  
To protect the natural beauty of our patients' teeth, Cleburne Dental Care uses tooth-colored composites because they are a stronger, safer, and more natural-looking alternative.  These resin fillings are thin and virtually undetectable. They add strength by bonding to the tooth and require the removal of less tissue. Tooth-colored fillings are harder and more durable than amalgam fillings, so they will last for many years.
Gone are the days of ugly, silver fillings that degrade over time.  Tooth-colored fillings blend so with the tooth color, so they look and feel invisible. Our patients can chew, talk, and smile with confidence. 
Dental Implants
For our patients who suffer from missing, failing, or unhealthy teeth, dental implants are a popular and effective long-term solution because they fit, feel, and function like natural teeth. These implants are inserted into patient's mouths using a titanium base that fuses to the bone after a period of time. Because they are firmly rooted, implants look and work like living teeth. 
Whether you have a single missing or unhealthy tooth, or you need a full set of upper and lower teeth, the professional staff at Cleburne Dental Care can often provide an implant solution. Make an appointment to discuss whether you are a candidate for dental implants. Let us help you restore your natural smile.
Full and Partial Dentures
Dentures are another treatment option for patients with missing or failing teeth. Unlike implants, dentures are not permanent and can be removed. They replace teeth and surrounding tissues and require regular maintenance. Additionally, patients will often have to have teeth removed to accommodate a set of dentures.
Cleburne Dental Care can make partial dentures for our patients who need to replace a few teeth and full sets of dentures for those who need to replace an entire set of teeth. We are committed to creating a denture solution that is workable and comfortable for our patients.