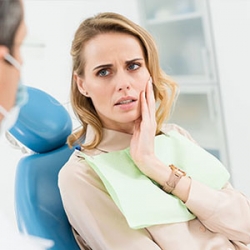 Is a painful dental emergency ruining your day? A throbbing toothache or broken crown can make it difficult to concentrate or perform daily tasks. When you need emergency dental care, little else matters. In fact, neglecting to get the care from an emergency dental office when you need it can lead to even more serious dental problems later.
If you're unsure if a dental problem is an emergency, we offer this advice: If it hurts, it's an emergency.
In case you ever have a dental emergency such as toothache, swelling or broken teeth, Cleburne Dental Care is to help! We understand that dental emergencies can be inconvenient and by nature need attention as soon as possible. Our practice is designed in a way that allows for new patient emergencies to be seen as soon as possible.
Having extreme tooth pain or finding yourself in a dental emergency is not fun. However, our patients are comforted to know that we are a trusted family dental practice in Cleburne, Texas and we  are able to provide our patients with top-notch service to help them address nearly any dental emergency and tooth pain they find themselves with.
Emergency dental services include any urgent dental care tests and procedures that provide pain relief and resolution of dental problems that might get worse if left untreated. Our dentists routinely provide restorations, treat injuries, and manage severe pain and swelling during business hours. Here are a few of the emergency services that our office offers:
Treatment of severe toothaches, pressure and oral pain caused by dental decay or injury
Emergency tooth extractions
Repair of chipped, cracked and fractured teeth
Treatment to manage wisdom tooth pain or swelling
Crown and filling restoration
Treatment for dental infections
Pain relief and correction of broken brackets and wires associated with orthodontic devices
Common Dental Emergency Situations
Dental Injury


Sports injuries, auto injuries and fluke injuries are frequent emergency dentistry scenarios we see. Fortunately, your emergency dentist in Tampa offers our patients the ability to address a dental emergency right in our office.



Sudden Toothache


A toothache can be much more than a distraction. We understand that some tooth pain can be so severe that you are unable to function normally. Schedule a visit if tooth pain is your dental emergency. You need not suffer through hours and days trying to get things done despite the throbbing pain you may be experiencing.



Unexpected Bleeding


If you find your gums bleeding for no apparent reason or they seem to bleeding more than they should, please get in for a visit. It could be periodontal disease (gum disease) or another issue that needs immediate attention.